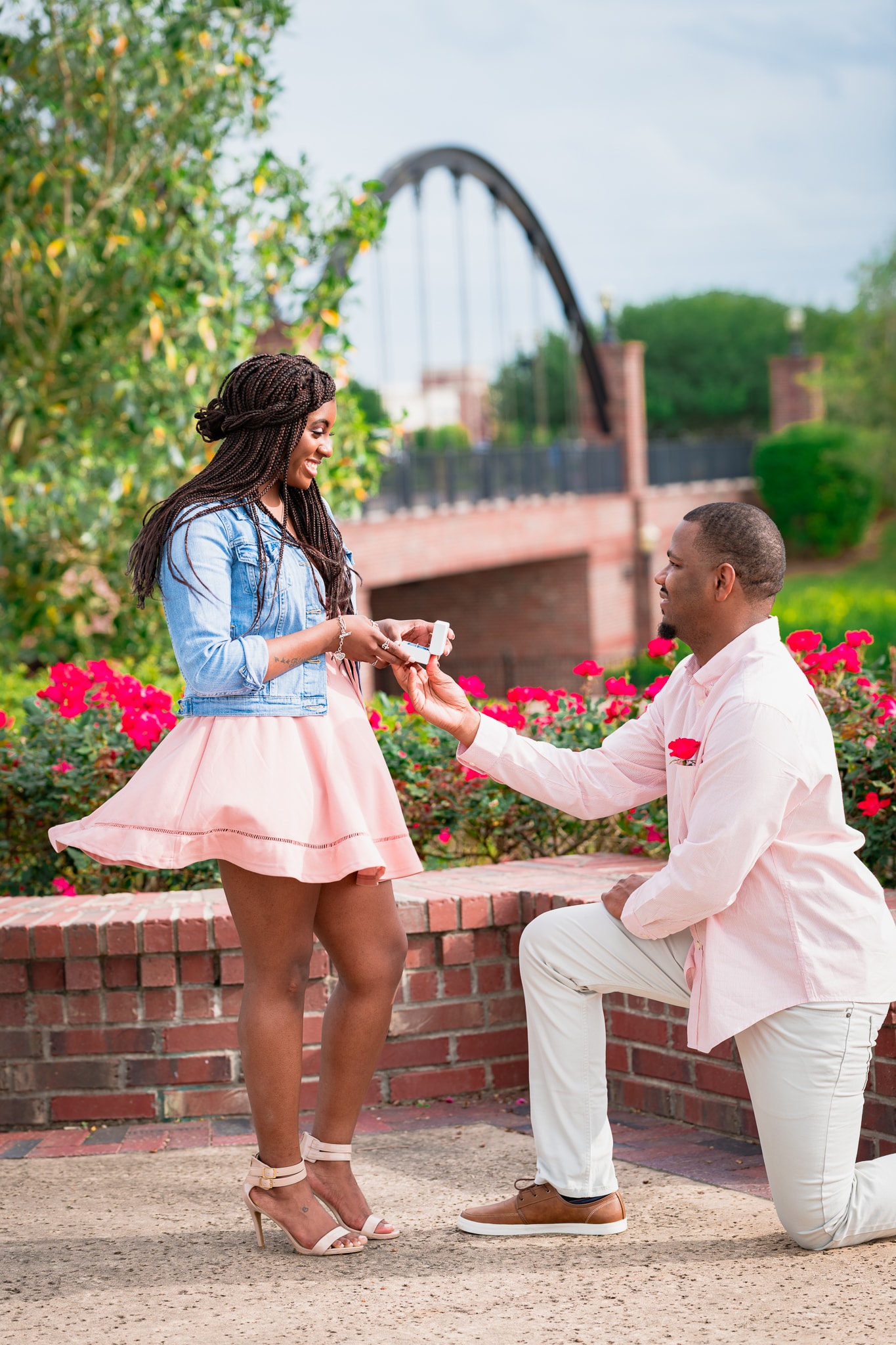 "BLAKE YOU ARE AMAZING AND A GIFTED PHOTOGRAPHER!!!!
I love how you to take the time out to prepare to make sure me and Trevian have the perfect wedding day when it comes to our wedding pictures I just know you will capture so many great memories!! Not only that also how you took the time out to help to create the look we was going for our engagement and family photos! Every idea I shared with you. You went above and beyond to make sure we recreate the vision I had and made it 100x times better than the original photos. I know we couldn't have chosen a better photographer for our wedding day and also for our future photo session that are yet to come!!!" - Ebony Davis
"Absolutely outstanding interaction with Blake.
My wife and I chose to use Cernosek Photography to take our first set of family photos with our daughter who had just turned 6 months old. He met us at a park, just outside Rosenberg, and had a keen eye when it came to picking locations that would make beautiful backgrounds for our pictures. He is extremely enthusiastic and I cannot say enough about his patience. It was a windy day with many passing clouds, and the main subject of his photos was a 6 month old who does not like to stay still for more than a few seconds. If you are looking for a photographer that takes great pride in what he does, look no further. We will definitely be utilizing Blake's skills again in the future! Thank you for the beautiful photos Blake!!!" - Nicholas Kresta

We met at the church a few weeks before the wedding so he could get some ideas and gauge what we were looking for. He asked a bunch of questions and took some notes then gave me some homework. He asked me to go on pinterest to find some ideas of style of photos and also asked me to make a list of photos we'd like to do. Even though we didn't need Blake until after the ceremony he got there really early and caught some photos of the ceremony that I'll treasure forever. He was amazing with my near-tween boys and all of our needs and shuffling of people. I cannot say enough great things about Blake! Now I found out he's branching out into doing real estate photos and videos - I can't wait to use him for my next project! I would refer Blake over and over and over again!" - Kimberlee Jackson
"Blake has a creative eye and the patience to carry out his vision
He took photos with me (an insecure mom) and my 4 year old toddler. While my toddler is photogenic, he can be hard to capture. Blake was able to not only capture some great shots, but he got some photos that really show my son's personality. It was a pleasure to work with him and I'll be inviting him to all major events to capture those special moments. Also, it was nice to FINALLY be in the pictures, as opposed to taking them this time. Thank you so much Blake. I look forward to creating a long lasting friendship."- Jennifer Pierce
"I would like to take this time and say thank you for the amazing pictures.
All of the time and thought you took to prepare for our special day was very touching. I appreciated your professionalism and willingness to go above and beyond the stereo typical wedding photos. I was very pleased with the quality and various styles using color and black and white. I was really amazed at the amount of the random pictures taken of all of our family and friends enjoying the festivities. I will treasure those just as much as our actual wedding photos. Once again thank you so much for the beautiful pictures especially on such short notice." - Kevin & Terri Weindorff
"Blake was very professional and prepared from the moment we reached out to him.
He made sure all our needs were met, capturing all the right moments. He kept in touch and delivered the pictures on time. Being a photographer for a Venezuelan wedding is not an easy job, but Blake and his team did a great job! 100% recommended." - Maria B. Garcia
"Photographing an 8 month old is no easy task.
They march to the beat of their own drum and have the attention span of a goldfish. Blake was incredibly patient though and took breaks as needed for our sweet Lily. He also was considerate and patient with my Pinterest addiction and exceeded my wishes for what I had wanted! If you're looking for an affordable photographer who will take his time to get you exactly what you're wanting, all while being ever so kind, gentle and considerate with your children, then look no further. I can't wait to do more photo sessions in the future. Thank you so much Blake!" - Angela Vargas
"Blake did an amazing job!!!!!
Prior to our photo session, Blake got with us and got an understanding of what we exactly wanted. He was very patient with us in getting what we had in our minds. He even took the time the night before to watch the movie prior to our photo shoot which gave him several great ideas throughout our photo shoot. I highly recommend Blake as your photographer. He does an amazing job!!! Thanks Brother!!!!" - Paul DeDear
"Blake captured the personalities of two crazy kids when he photographed Korey and Kami, my grandchildren!
He let them be themselves and for that I am forever grateful! The tender moments along with the funny ones made these photos come to life! Kami said some of the photos look like they are in a "magical garden." She is right. Blake made this entire photo shoot magical and we now have memories to cherish forever of the love between a brother and a sister. Thank you from the bottom of my heart Blake!" - Missy Tielke
"Before even photographing my children Blake stayed in great contact with me regarding my session.
We have not had the greatest of weather lately and he made sure that my boys (2 and 4) would be comfortable taking the photos outside. This is a very important trait for me to have in a photographer. Due to this my boys were comfortable and excited to take their pictures and the outcome is beyond amazing. I do not know how I am going to select my favorite shots when they are ALL my favorite shots. Thank you again Blake for these captured moments. We can't wait to schedule the next session." - Kaitlyn Kump
It's hard to keep my 3 year old to sit still let alone try and take pictures. But Blake just let her play and do her own thing. He was able to capture her and her personality like I see everyday. I will definitely be recommending him and using him again!!!!" - Sydney Yelverton
"Blake is so amazing to work with!
He captured exactly what I was looking for in an exciting time for us! He worked along with my ideas and had great ones of his own. He made it fun for us and my son, which made it easier and more enjoyable to capture the perfect photos! Thank you Blake for making our announcement even more special!" - Chelsea Renninger
"Blake is very detailed oriented!
He pays special attention to lighting and angles--all aspects to get the perfect shot. For our Christmas session, my husband and I picked a few Pinterest family shots with a dog. It can be challenging with animals, but Blake was very patient. Not only did he deliver, but he added a few twists of his own. The photos came out beautifully and looked great on our family Christmas cards. Will definitely work with Blake and Cernosek Photography in the future!" - Krista Hawn
"Working with Blake was great.
He knew all the great shots with the best lighting! He was patient and professional and we were very comfortable working with him. Not only was the photo shoot fun, but the pictures came out amazing!! His editing skills are top notch. The colors are so crisp and bright and he even managed to make a very unphotogenic person photogenic :) I highly recommend Blake and we will from now on be repeat customers." - Jenna Coda
"Blake did an awesome job
First of all I was late and he never left he stayed there and waited, he worked with my daughter Chloee on her pictures, Blake is the best at pictures I would recommend him to anybody and I would definitely use him again." - Jeanette Armagost
"I had only hired a photographer once in my life (when my daughter was born).
She did a great job, so my expectations in a photographer were very high. To top it all off, Cernosek Photography offered a highly competitive rate we just couldn't pass up. By the time my daughter's party was over, Blake not only met my expectations, but surpassed them! He fit in perfectly with our families (I barely do that myself!), was extremely professional, and was ready to capture every moment we had planned. The pictures came out amazing, and we now have dozens of photos that I just can't say enough about...I think I need more wall/desk space for pictures! Thanks Blake!" - Richard Reiser